how to play 3 card poker
3 Card Poker is a fast and fun poker-style game that requires little strategy for a player to be successful. The low house edge of approximately 2.5% makes it an enticing addition to the casino. Beat the dealer by making the best poker hand possible with one draw of three cards.
3 Card Poker games are played with a standard 52 card deck. The cards are distributed in hands of three, with cards shuffled after each hand. Straights have a higher ranking than a flush, as there are fewer ways to make a three-card straight. Aces can be either high or low.
There are two bets a player can make that will influence the game payout: Ante and Pair Plus. The ante works as it does in conventional poker. This is the cost of playing the hand. The Pair Plus is a wager that the player will get at least a pair or higher. Payout levels are listed in a table below. It is not necessary to make both bets, but players must make at least one.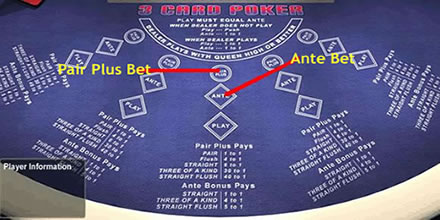 Player antes by placing his/her bet in the Ante spot on the table within acceptable table limits. Both dealer and player are dealt three cards face down. The player will determine whether their cards are good enough to bet against the dealer or fold. If player folds, he/she simply loses the ante. If the player decides to test his/her cards against the dealer, he/she must place a wager equal to the ante in the Play spot on the table and click the Play button. If the player wins the hand, the hand pays both the Ante and the Pair Plus wager (if applicable).
Note : the dealer must have at least Queen High to qualify. Anything lower is an automatic win for the player providing the player has not folded.
When calculating a win or loss, there are three things to consider : Pair Plus result, Ante result, and the Play result (did the dealer qualify).
Summary of bets wins & loses
| | |
| --- | --- |
| Pair | 1 to 1 |
| Flush | 4 to 1 |
| Straight | 6 to 1 |
| Three Of A Kind | 30 to 1 |
| Straight Flush | 40 to 1 |
| | |
| --- | --- |
| Straight | 1 to 1 |
| Three Of A Kind | 4 to 1 |
| Straight Flush | 5 to 1 |
| | |
| --- | --- |
| Dealer does not qualify - Ante wins, Play bet is returned | 1 to 1 |
| Dealer qualifies and player beats dealer - Both Play and ante win | 1 to 1 |
| Dealer qualifies and dealer ties player - Both Play and ante push | - |
| Dealer qualifies and dealer beats player - Both Play and ante lose | - |
Not much else to say about 3 card poker, other than Download any casino from this site and you can play 3 card poker and all other casino games for Free. So you dont have to risk a single penny before you have learnt the games you want to play. Go ahead! Download a casino and play for Free to see wether you like it or not.